Allegations Of Abuse?
Prevention &Survival

by Jodee Kulp and Judy Howell Wadsworth
workshops | writing | keynotes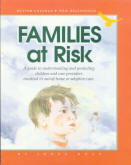 Families at Risk is a
HUGE guidebook for
families and professionals working
with issues of significant death, illness,
divorce, adoption, foster care and
other major childhood life losses.
by Jodee Kulp
Retail $29.95 SPECIAL ON LINE OFFER SAVE TODAY!
Review the Table of Contents
If you need answers to any of these questions. This book is for you!
Section 1:
Whose Watching the Children

Chapter One: Brown Bag Consignment Kids

Attachment - The anchor for healthy development
Separation and loss
Loss of self
Loss of relationships
Grief - Healing for pain and suffering

Preservation: Honeymoon for parents or survival of the fittest
Protest: Finally ... Time for a new beginnings
Sorrow: Working through the pain to a new beginning
Hope: A sense of mastery over the past
Faith: Walking out on future paths
Preparation for anniversary dates (Back to Top)

Chapter Two: Professional Public Parenting 101

What is foster care?
Why is professional parenting a partnership in caring for out-of-home children?
How do children find themselves in foster care?
What kinds of surrogate homes and parents are available to children who need care when a birth parent cannot provide?
How are foster care providers licensed?
How do laws and rules affect the out-of-home care system?
What kinds of adults make good foster parents?
What types of expectations are placed on agencies?
What are the licensing limitations and why do they exist?
When children receive care from an unlicensed provider. . .
How do I get a license?
What is the role of the surrogate care provider?
How do the children fit in? (Back to Top)

Chapter Three: Knowing Yourself, Knowing Your Family

A Quality Care Checklist for Foster Families
How do I know my own limits and my family's limits?
The stresses of surrogate parenting and knowing when you've been stretched
Potential stresses for care providers and children they care for
How care providers can get help when they need it
Why care providers fail to request help?
What if a call for help raises a "red flag" initiating an assessment and investigation?
What kind of services are available to help foster care providers?
How care providers can find someone to talk to
What about culturally sensitive issues?
What can foster care providers do to prevent allegations of maltreatment or neglect in foster care provider homes? (Back to Top)

Section 2: Families At Risk

Chapter Four: The Hurricane of Allegations

What is an allegation of child abuse or neglect?
Who reports child abuse and neglect?
When should a report be made?
What happens if a mandated reporter does not report/
Who is responsible for complaint review?
What happens after an incident is reported?
What is included in a report of suspected maltreatment?
Who is involved in the follow-through and investigation of a report?
Once the decision is made to investigate and assess, what new questions arise?
What are the complaint review, risk assessment, and screening processes?
What are the criteria of a risk assessment?
Diagrammed journey of custodial family suspected of child maltreatment
Diagrammed journey of licensed family suspected of child maltreatment
How does the screening process differ between birth families and licensed families?
What are investigators looking for?
How are interviews with children handled?
What occurs during an investigation?
What is a protective intervention process?
What are the qualifications of investigators?
When investigating licensed families, the local agency is in quite a difference position.
The licensing investigation - non-compliance?
What is a licensing investigation?
What follows a licensing investigation?
How long does the agency keep records of allegations relating to reports of maltreatment?
How can protective services be abusive?
Caught in the Act or in a Web (CROSS-CULTURAL CASE HISTORY)
What happens after an assessment or investigation of a birth family?
What happens to the child?
Trapped in Protocol, License Violation or Child Maltreatment (FOSTER FAMILY CASE HISTORY)
Why are children in care providers homes sometimes removed upon received of a report?
What are common strategies interviewers follow?
What happens if the investigation determines no maltreatment occurred? (Back to Top)

Chapter Five: You Couldn't Mean Me?

Who cares for the care providers?
Why is the agency in such a difficult position?
How are care providers affected?
Care providers and the system respond to allegations differently
What are common feelings of care providers facing allegations?
Who suffers from a foster home allegation?
What are special issues CO-parenting foster care providers face?
How to deal with an allegation
What can foster families expect to happen?
What do care providers need when they are reported for child abuse?
What kind of help can care providers expect from the agency?
Why do some agencies prohibit communication between the agency and the family?
Can't you simply straighten this out by talking with the agency?
What kind of help can the provider expect from provider associations or a private agency?
What are confidentiality laws and how to they affect families?
What is a grievance procedure?
How can a care provider select a qualified counselor?
What is expected of "professional parents"? (Back to Top)

Section 3: Communication-It Goes Both Ways

Chapter Six: Getting the Facts, Fast?

What information do care providers need to properly communicate the truth if an allegation is made against them?
How can providers best communicate?
What kinds of difference can affect communication?
What is a mixed message?
How can the way questions are perceived affect answers?
How to listen effectively.
Sample common mixed messages
With whom to talk. Who do we tell?
How does document confidentiality work?
What rights do providers have regarding private or confidential data on themselves?
How can providers access records regarding themselves and their families?
What about consent to review medical/psychological records?
How are data classified?
Who is the data subject?
Do you need to pay to see your files?
What if your files are lost?
Can you see confidential data about yourself?
What if you don't agree with the accuracy of the data?
Is an independent assessment a good idea?
How can you protect children from being unnecessarily removed from your home?
How do you appeal a decision?
What happens to closed or inactive records? (Back to Top)

Chapter Seven: Social Services: No Time for the Service

Why is it so hard to be a social worker?
What is a negative social service attitude or behavior?
What do social workers do when working with foster care?
How to agency practices harm social worker, provider and client relationships?
What is the relationship among the agency, the social worker and the care provider?
What is the job of the caseworker?
Social Worker Case Study
What is the reality of "family" for kids facing out-of-home care?
When does a child qualify for family foster care?
What can caseworkers do to protect children in care from abuse or neglect?
What's the difference between a private agency and a county agency? (Back to Top)

Chapter Eight: The Amazing Legal System

The legal process today
Types of law and their differences
Should I talk to an attorney?
How can I find the right attorney?
How do I interview an attorney?
What do I do after I hire an attorney?
What do I need to know?
What is the difference between a hearing and a trial?
What types of court are there and how are they best used?
What do I need to know at the agency level?
What do I need to know at the county level?
What do I need to know at the state level?
What do I need to know at the federal level?
What are rights?
What rights should be available for children?
What are the rights of young people in foster care?
What are the rights of a primary, birth or custodial parents of children in out-of-home care?
What are the rights of primary, birth or custodial parents facing allegations of child maltreatment?
What are the rights of licensed care providers?
What are the rights of a licensed provider facing allegations?
What are your rights in securing government data? (Back to Top)

Section 4: Sometimes Reality Hurts

Chapter Nine: Evacuation . . . for Safety or Protocol?

What qualifies as an absolute emergency to remove children?
What is full and adequate preparation in the mind of a child?
What can social services do to help prepare a child for a potential move?
What can a provider do to help children prepare foe a potential move?
How can the care provider give the child a life preserver to the past?
How to get started
Why the relationship connection is so important to children
Effects of separation on the care provider family (Back to Top)

Chapter Ten: Who's Kidding? It's OK for Our Kids to Be Different.

What do children in out-of-home care need in their new homes?
How do individuals differ?
How do we devalue differences?
How do people with difference devalue themselves?
How does our temperament or personality affect our relationships?
What effects can different temperaments have on child-parent relationships?
What about those kids with intense temperaments?
What effect can allergies have on children?
Building cooperation from our differences (Back to Top)

Section 5: The Fine Line...
Discipline, Punishment, Maltreatment Abuse

Chapter Eleven: Discipline or Punishment

Why is communication the connecting link?
What is positive discipline?
Why consequences make sense in parenting
What is the difference between discipline and punishment?
What if nothing is working?
Tough Love - What is it?
How can parental authority be abused?
And, sometimes nothing you do will work, the mountain is too high to climb.
(Back to Top)

Chapter Twelve: Defining Child Maltreatment

There may be reasons for the maltreatment. There are NO excuses!
Does it means all parents who were raised in difficult childhoods will continue the pattern in the next generation?
What types of families allow the maltreatment of children?
Does that mean any parent can potentially maltreat a child?
What about the children?
Can maltreatment be prevented?
What can be done?
What constitutes maltreatment?
What does a care provider need to know?
What is emotional abuse and neglect?
What is neglect or endangerment of a child?
What is physical abuse?
What is adult-child sexual abuse and exploitation?
Sexual maltreatment of children by adults is a serious offense.
What is child-child sexual abuse and exploitation?
What is indirect sexual abuse of children?
What is religious manipulation?
What is ritualistic abuse?
Occult and Satanism - A rising Fad for American's Teens
How can care provider react to help the child? (Back to Top)

Chapter Thirteen: Guidelines for Care Providers

What are borderline disciplines?
Why borderline discipline is not appropriate for children in care.
What are abuse and neglect classifications in licensed family homes?
What is corporal punishment?
What is emotional abuse of children in care?
What can a care provider do to help a maltreated child?
Honestly look at a child's (and your) methods of hiding unpleasant feelings -- especially anger.
Turning the child's behavior intensity level down in stages is easier than trying to turn it off.
Helping a child get in touch with the self.
How can a family help a child who has anxiety, depressed or suicidal?
How can a family live safely in the community and work with sexually abused children?
What are some old and new assumptions about living with children who have been sexually abused? (Back to Top)

Section 6: Reference Tools for Preservation

Chapter Fourteen: Document -- How to Put It in Writing

How can a care provider document properly?
How can the care provider state a family notebook?
How can the care provider document for children in care?
How can care providers establish personal specifications of caring for children?
How can foster care providers set up foster home guidelines or procedures?
(Back to Top)

Chapter Fifteen: Staying Healthy as a Family

How care providers can take time out - rest and find a neutral zone.
Care providers need to take time to celebrate
Roll out a ground round of laughter
How can care providers maintain a good self concept?
Reach out to others and be ready to accept help
What does the care provider need from support team members?
What are common parent group dynamics?
How groups mature and what focus each level of maturity has
What if the media arrives during the heat of a crisis
How do the various media differ?
Who are reporters? What do the expect?
What if I am taken "out of context". (Back to Top)

Chapter Sixteen: The Future -- Creative Reform for Children and their Families.

Designated Care Giver Law -- Introduced in 1996. Passed and active in Minnesota July 1, 1996. Revised August 1, 1997
Two Year Professional Foster Parent Training Program
Investigation Standards -- Minnesota data gather law established 1995
Social services practical experiences annually in foster care
Citizen review board for appeals
National public relations campaign (Back to Top)
Life Is Unfair!

Say it! It's OK!
Say it Again.
Bad Things Do Happen to Good People!
Get Families at Risk a 416 page guidebook to
help you and your family through these complex times.
Workshops available for Agencies and Associations
Foster Families, Adoptive Parents and Kinship Caregivers


Brief insight into our workshop program
This site is provided complements of Better Endings New Beginnings.
It is not intended to convey legal, educational, medical or professional advice. We recommend you find your own local professional who can work with you.