Allegations Of Abuse?
Prevention & Survival

by Jodee Kulp and Judy Howell Wadsworth
workshops | writing | keynotes
Brief Overview of Statistics 1976-1997
Current numbers are being calculated
1976-1997 National Estimates Child Abuse & Neglect Reports


From 1972 - 1997, 25 years over 46 million child maltreatment allegations have been made.
Of these allegations 30-40% have been substantiated.
The number of allegations have increased over 500% annually,
while the population of the USA has increased only 27.5% or 57.7 million people.
267,636,061 - 1997

77,301 million under 19 years,
272,123,686 - 1999

78,457 million under19 years
It is important to note that estimates are not completely accurate due to differences in states reporting or not reporting, investigation procedures and whether or not families are counted more than once in an annual report if reports against them have been made multiple times.
For the sake of argument lets deal with a 50% (23 million families)

number of allegations that are unsubstantiated. This leaves 43 million family systems scrutinized, judged and disrupted during the investigation and findings process over the last 25 years.

Presently each year over 1.5 million US families have unsubstantiated allegations and how the investigation is handled will affect many aspects of this families future and quality of life.
Children Reported for Maltreatment (1993 -

1997 US Est.)

Following is a review of the current trends in child abuse reporting and fatalities in the United States, taken from the 1997 annual 50 States Survey done by the National Committee to Prevent Child Abuse.
From 1993-1997 a period of 5 years reports of allegations have increased
by 128,000 or 4%. Substantiated cases have increased by 45,000 cases and services provided to clients have remained around 60-70%.
Of significant interest is that sexual abuse substantiated allegations have decreased
while neglect substantiated allegations have increased.

By comparison to national averages of child abuse and neglect reports from 1993-1996 Minnesota remained less than national average in percentage change.
Up 7% in 92-93

New legislation written

Down 6% in 93-94

Down 4% in 94-95

Down 3% in 95-96
There are yet no published reports for 1997
Minnesota 1996 Child Protection Statistics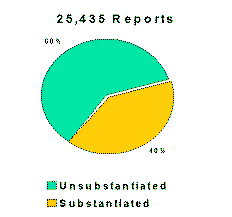 10,200 Substantiated Allegations
40% of total number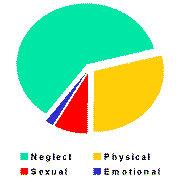 Minnesota's Breakdown of Statistics
Neglect - 6,673 (65.4%)

Physical Abuse - 3,240 (31.8%)

Sexual Abuse - 853 (8.4%)

Emotional Abuse - 215 (2.1%)
Statistics have changed nationally in 10 Years
| | | | |
| --- | --- | --- | --- |
| 1987 | Description | 1997 | Change |
| 26% | Physical | 22% | -4% |
| 16% | Sexual | 8% | |
| 55% | Neglect | 54% | |
| 8% | Emotional | 4% | |
| 12% | Other (medical, educational) | 0% | |
Substance abuse is the cited as one of the top problem areas. Of confirmed cases of child maltreatment 40% involve the use of alcohol or other drugs in the US. This suggests nationally that of the 1.2 million confirmed cases an estimated 480,000 children are mistreated each year by a caretaker with alcohol or drug problems. Additional research suggests that alcohol or drug problems are factors in a majority of cases of emotional abuse and neglect.
Prenatal exposure to alcohol, drugs or malnutrition complicates childhood development and growth and parenting these children is very difficult. Special needs adoptive parents, foster and kinship caregivers are at significant risk.
Other areas of concern involved:
poverty and economic strains

parent capacity and skills

domestic violence
Minnesotas Foster Children

42% Childs conduct or condition

10% Family interaction/financial hardship

47% Abuse, neglect, substance abuse, disability, death, abandonment, incarceration

1% TPR
Minnesota Foster Children Outcomes

1995 Minnesota had 18,492 children in foster care
for some period of time.
Approximately 9,000 on any given day
50% in family foster care vs institutional care

50% left within 1 month

24% left within 6 months

18% remained more than 1 year
Minnesota Fatalities Child Protection Statistics
1996
1995
1994
1993
8
9
7
6
The death of one child at the hands of a caregiver is tragic.
Thirty children died in Minnesota at the hand of a caregiver during 1993-1996.
Another 72 children were identified as having life threatening injuries.
Life Is Unfair!

Say it! It's OK!
Say it Again.
Bad Things Do Happen to Good People!
Get Families at Risk a 416 page guidebook to
help you and your family through these complex times.
No matter how bad your heart is broken
the world doesn't stop for your grief.
Workshops available for Agencies and Associations
Foster Families, Adoptive Parents and Kinship Caregivers

Brief insight into our workshop program
This site is provided complements of Better Endings New Beginnings.
It is not intended to convey legal, educational, medical or professional advice. We recommend you find your own local professional who can work with you.